The 2023 SBE Chapter 22
Broadcast & Technology Expo
Wil Be Held On Thursday, September 28
at the Marriott Downtown, Syracuse, NY
Exhibitor & Sponsorship Registration is Open
Attendee Registration & Hotel Room Reservation is
available now – use the 2023 Expo link at the top of our home page

The Chapter 22 May Meeting
will be in-person and Virtual on 5/17
6:00pm Dinner for those attending in-person
6:30pm Chapter Business Meeting
7:00pm Presentation, "Introduction to Fiber Optic Cables for HD Broadcast"
by Benjamin Nemser, founder & CEO of Nemal Electronics
THERE ARE 2 REGISTRATION LINKS FOR THIS MEETING
CLICK HERE TO REGISTER FOR THE IN-PERSON MEETING SO WE HAVE AN ACCURATE COUNT FOR DINNER
OR
EMAIL tmcnicholl@wktv.com TO REQUEST THE MS TEAMS MEETING LINK

"Introduction to Fiber Optic Cables for HD Broadcast"  This live and Powerpoint presentation provides an overview of the practical applications for Fiber Optics in HD AV and Broadcast.  We will discuss the different types of fiber optic cables, connectors, and Media Converters used in AV applications, including SMPTE, opticalCON, and Tactical Fiber products.  We will also cover installation considerations and maintenance, for inside plant, arenas and other venues, studios, and mobile use.
Outline of Topics:
System Concept Approach in Fiber Design and Installation

From Analog to 24Gb/s-A Brief History of Broadcast Cable Development

Why and Where Do We Use Fiber Optics in AV/Broadcast?

Types of Fiber Optic Cable and Connectors

4K-8K-Future Standards

12G

Q&A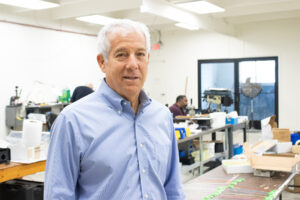 Benjamin Nemser founded Nemal Electronics in 1979 and is currently its CEO. Ben graduated from University of Miami (BBA and JD) in 1981, and holds a FCC General Radio Telephone Certificate as well as an Amateur Extra Class License (WA4DZS).  On weekends, Ben trains for marathons and gives flight instruction in business jets.  Ben has more than 45 years of experience in the design, manufacture, installation, and troubleshooting of cable for AV, Broadcast, and RF.
Nemal Electronics is an active member of SBE as well as NAB, Avixa, Bicsi, and NAMM, and designs and manufactures a wide range of standard and custom AV, RF, and broadcast cables for most of the principal camera manufacturers and broadcast networks throughout the Americas. Nemal maintains its headquarters and manufacturing facilities in Miami, Florida as well as its Latin American sales and support facility in Sao Paulo, Brazil.