The Marriott Downtown, 100 E Onondaga St, Syracuse is 1/2 mile from I-81.  The hotel has a parking garage at 100 Harrison Pl.  Overnight guests will receive complimentary parking.  Others will be charged $3 for daytime parking.  Valet parking is available.
Our hotel room block expires on August 26th.  The hotel will still honor the special rate of $149/night if rooms are available.  Call the hotel at 315-474-2424 and mention the SBE Chapter 22 Conference.
If you book through a 3rd party such as hotels.com, booking.com, kayak.com, AAA, you will not receive the room discount and we will not receive room credits which would otherwise help reduce our costs.  Please call the hotel.
This map indicates the route for exhibitors to use for load-in, then to the Marriott Parking Garage, and route for others to use to get to the garage.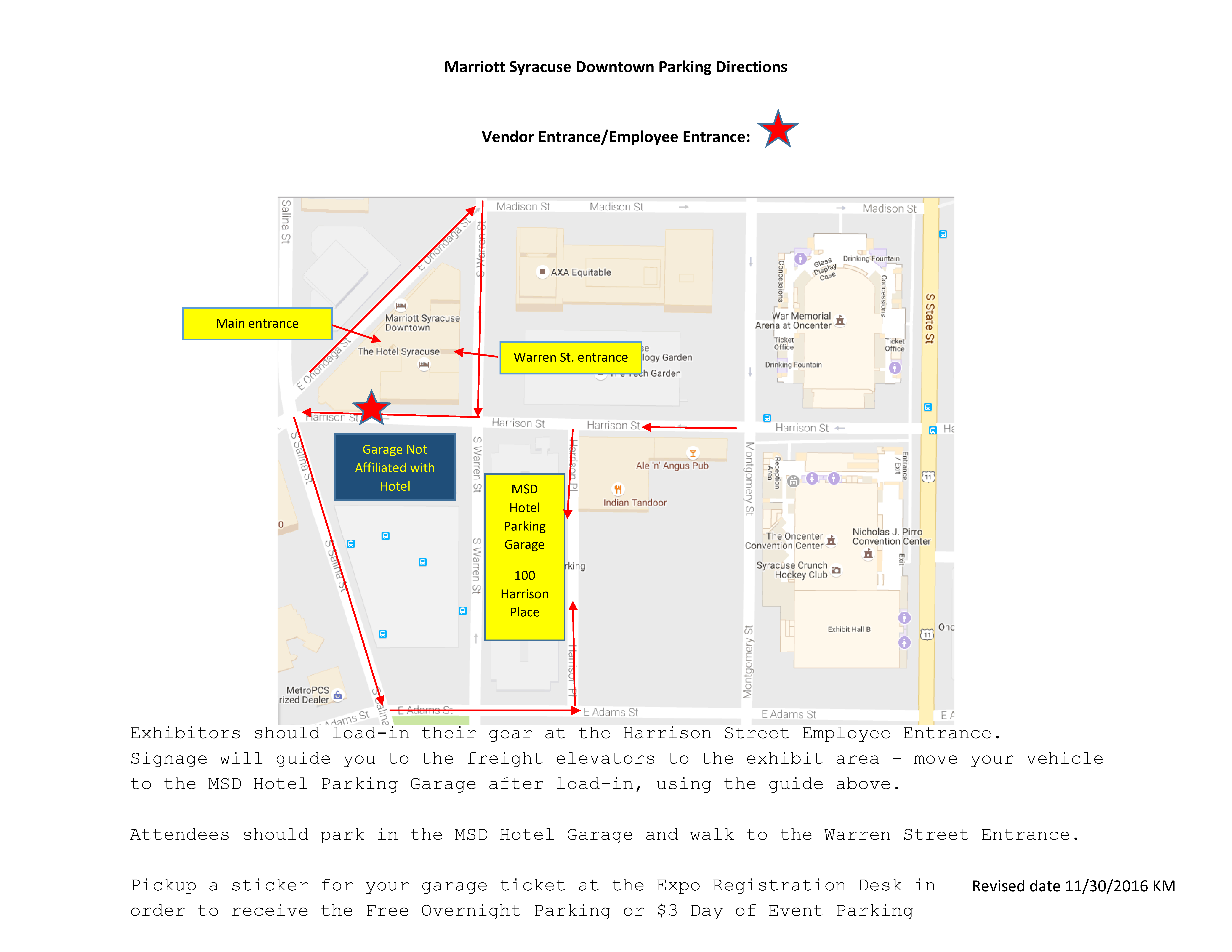 Download a copy of the map by CLICKING HERE
Marriott Syracuse Downtown
Parking for the Marriott Syracuse Downtown
Harrison Place Parking Garage
Physical Address: 100 Harrison Place, Syracuse, NY 13202
FROM THE NORTH:
Take I-81 S via EXIT 9S toward Syracuse.
Take the Salina St/Clinton St exit, EXIT 19.
Keep left to take the Salina St ramp.
Merge onto N Salina St.
Turn left onto E Adams St.
Turn left onto Harrison Place
Turn left into the Harrison Place Parking Garage
FROM THE SOUTH:
Use I-81 N toward Syracuse.
Take the Adams St exit, EXIT 18, toward Harrison St.
Stay straight to go onto Almond St.
Turn left onto Harrison St.
Turn left onto Harrison Place
Turn right into the Harrison Place Parking Garage
FROM THE EAST:
Take I-90 W/New York Thruway W toward Buffalo
Take EXIT 34A to merge onto I-481 S toward Syracuse/Fairgrounds/Binghamton.
Merge onto I-690 W via EXIT 4 toward Syracuse/Fairgrounds.
Take the Townsend St exit, EXIT 13, toward Downtown.
Turn left onto N Townsend St.
Take the 1st right onto Erie Blvd E/NY-5.
Turn left onto S State St/US-11 S.
Turn right onto Harrison St.
Turn left onto Harrison Place
Take a right into the Harrison Place Parking Garage
FROM THE WEST:
Take I-90 E/New York Thruway E toward Albany
Take EXIT 39 to merge onto I-690 E toward Syracuse/Fairgrounds.
Take the W Genesee St exit, EXIT 12, toward Downtown.
Turn left onto NY-5/W Genesee St.
Take the 3rd right onto N Salina St.
Turn left onto E Adams St.
Turn left onto Harrison Place
Turn left into the Harrison Place Parking Garage
FROM SYRACUSE HANCOCK INTERNATIONAL AIRPORT TO MAIN HOTEL ENTRANCE:
Head South on Col Eileen Collins Blvd, use the right lane to take Interstate 81 South ramp to Interstate 90 Thruway/Syracuse.
Use the left lane to continue toward I-81 South. Keep left, follow signs for Interstate 81 S/Interstate 90/Syracuse and merge onto I-81 South.
Continue on for 6.0 miles. Take Exit 18 toward Harrison Street/Adams Street.
Merge onto Harrison Street.
Turn Right onto South Salina Street
Turn immediate right onto East Onondaga Street
Garage is adjacent to the hotel, features 7 floors & encompasses the entire block
Look for the maroon & white sign


Download a copy of the directions by CLICKING HERE